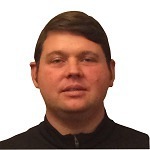 Matt Evans - PGA Professional
Hi, I am Matthew Evans I am 39 years old and a PGA AA class professional. I am married with three children with my oldest child just starting university and live locally in Cheltenham.
Having qualified in 2008 I played a few satellite tours and regional PGA events. Soon, realising I was not quite good enough to make a living playing, I decided to take the coaching option in the golf industry. I worked at Cleeve hill as the assistant professional to Dave Finch who I have know since I was a teenager. I developed my coaching skills with Dave and another well renowned PGA coach Alistair Barr, Mr Barr helped me enormously with my practical coaching exam in my final year of training allowing me to watch several of his lessons so that I could learn from the best! Noel Boland another local PGA professional who has served the local area for many years was also a very good influence on my golf career in my early day in both playing and coaching. With these three professionals and of course Simon Harrison who took me on as his assistant professional earlier this year I owe a big thank you for shaping me in to the club professional I am today.
Simon or Harry as he is fondly know around Lilley Brook golf club has help my development beyond recognition in my 8 months at the Brook and I am forever indebted to him for his assistance in helping me to get appointed as the new head professional at Lilley Brook golf club.
---